Today, I and a group of SENRUG Committee Members went to Reston (population 450), described as "the luckiest village in Britain", to celebrate the opening of their brand new £20m station, sneaking in a day before the Elizabeth Line opens in London. We travelled there and back on TPE who were doing a grand job promoting not just the station but their Newcastle – Edinburgh service, and were offering complimentary tea and coffee to all passengers – an appreciated welcome treat.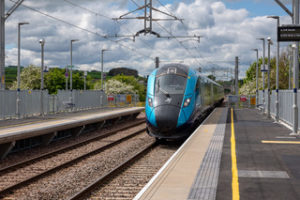 We were suitably impressed by the stunning architecture of the new station, though couldn't help thinking, in true Network Rail style, it was vastly over-engineered. Why, for instance was a footbridge necessary complete with lifts? A lane runs under the tracks at the north end of the station and a simple ramp from the lane to the northbound platform would surely have sufficed. We guessed missing out the footbridge and lifts might have taken £5m or so off the price tag.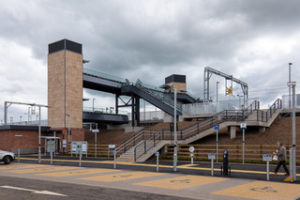 Our plan had been, on reaching Reston, to make it down to the picturesque seaside village of St Abbs, to enjoy a coffee or maybe some light refreshment. On this we were thwarted. The much advertised Pingo bus said they could take us there, but not necessarily bring us back.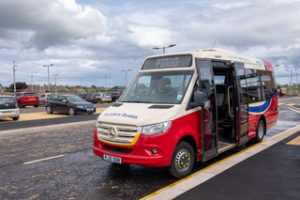 Next we tried a taxi firm but that produced the same answer (in many rural towns taxi companies are fully booked with school runs between 3 and 5 pm). But a brand new bus stop outside the station entrance, complete with timetable "Starting 23rd May 2022" proclaimed we could take the regular Borders Bus to Eyemouth, from which, after an hour or so in a pub or café, we could take another bus on to Berwick station to re-join our southbound TPE service. So we went for that. Alas not. 15 minutes after the bus had been due I phoned Borders Busses only to be told the driver had forgotten and driven straight down the Main Street without turning up the side road and into the station car park.
Maybe the bus driver was in cohorts with the sub-postmistress at Reston's village store? She certainly seemed prepared for the day with an appetizing array of scones, sandwiches and cakes, along with hot drinks, though sadly nowhere to consume her welcome produce other than to go back to the station – where we discovered the £20m budget had apparently not included litter bins
On the return train to Morpeth I was able to have a much appreciated catch up with Graham Mieklejohn, Stakeholder Relations Manager at TPE, where we discussed prospects for increasing the frequency of the TPE services and getting them all stopping at Cramlington (population 30,000).
Despite the absence of bins and busses, we congratulate our colleagues at RAGES (Rail Action Group East of Scotland) who alighted from the train we joined for our return journey, on their magnificent campaign achievement, and hope we'll soon be able to invite them to reciprocal celebrations at Belford.