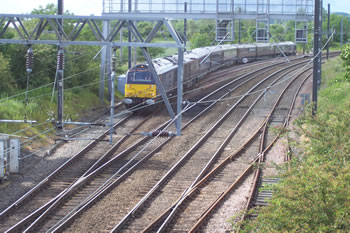 To complain or comment about a rail journey or station, use the contact details for the appropriate company below. Why not copy your correspondence to SENRUG (and please also tell us if you are a SENRUG member).
Clicking on these links will open a new webpage in your browser, on top of the SENRUG page.
Northern
For journeys on Northern trains, or station facilities at any station in South East Northumberland except Newcastle
From 1st March 2020 operations transferred to Northern Trains Ltd (a government owned "Operator of Last Resort")
For the time being, the same web address, phone number and email address as below apply

Web: www.northernrailway.co.uk
Email: enquiries@northernrailway.co.uk
Tel: 0800 200 6060


London North Eastern Railway (LNER)
For journeys on LNER trains or station facilities at stations operated by LNER which include Newcastle, Berwick-Upon-Tweed, Durham, York, Doncaster and Peterborough

Web: www.lner.co.uk
Tel: 03457 225 333

FREEPOST RTUH-TUGH-GCLZ
London North Eastern Railway
Cramlington
NE23 1WG
CrossCountry Trains
For journeys on CrossCountry trains

Web: www.crosscountrytrains.co.uk
Tel: 03447 369123

FREEPOST RRXU-HUEC-GLLY
Cannon House
18 The Priory Queensway
Birmingham
B4 6BS
TransPennine Express
TransPennine Express run services between Edinburgh, Morpeth, Newcastle and York, Leeds, Manchester and Liverpool

Web: www.tpexpress.co.uk
Email: tpecustomer.relations@firstgroup.com
Tel: 0345 600 1671

FREEPOST ADMAIL 3878
Manchester
M1 9YB
Tyne & Wear Metro
For issues with the Metro or Metro stations

Web: www.nexus.org.uk/metro
Email: contactus@twmetro.co.uk
Tel: 0191 203 3199

Customer Relations
Metro Control Centre
South Gosforth
Newcastle upon Tyne
NE3 1YT
Grand Central
Grand Central is an Open Access Train Operator who runs services from Sunderland (and Yorkshire) to London.

Web: www.grandcentralrail.com
Email: customer.services@grandcentralrail.com
Tel: 0345 603 4852

Grand Central Rail
Cannon House
18 The Priory Queensway
Birmingham
B4 6BS
Network Rail
For issues concerning railway infrastructure such as fences, bridges etc, or about the stations Network Rail operate directly which include Kings Cross, Edinburgh Waverley and Glasgow Central

Web: www.networkrail.co.uk
Tel: 08457 11 41 41

Kings Place
90 York Way
London
N1 9AG
TransportFocus
The national, statutory passenger and road user group

Web: www.transportfocus.org.uk
Tel: 0300 123 2350
Rail Ombudsman
If you have a complaint with a participating rail service provider (train company) that you have not been able to resolve with the company, the Ombudsman may be able to help.
Web: www.railombudsman.org
Email: info@railombudsman.org
Tel: 0330 094 0362

British Transport Police
If you wish to report a crime on the railway or trespass on railway infrastructure, or have information about a crime or suspected crime

Web: www.btp.police.uk/
Tel: In an emergency ring 999 otherwise 0800 40 50 40
You can also report incidents whilst travelling discretely by texting 61016

Newcastle Police Station
Newcastle and Sunderland Police Station
1 Neville Street
Newcastle
NE1 5DP
Not Sure Which Company to Contact?
Just go to www.fixmytransport.com , they will send your comment or complaint on to the right company.
Looking for compensation for a delayed journey?
If your journey involved more than one company, the general rule is that you should approach the company you bought the ticket from, not the company who operate the train that was delayed. If you bought your ticket from a station then that is the company that operates that station. For journeys involving just one or predominantly one train company, go to their website first and look at their Delay Repay scheme.
If your company is listed above but your details are incorrect, please use our Contact page to advise us (send your amendment to the Chair)