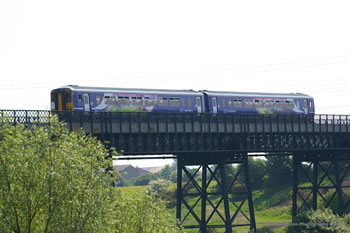 The lines SENRUG wants to see re-opened to passenger trains started life as part of the Blyth & Tyne Railway, which was incorporated in 1853. Ashington was originally a branch that was added later.
The Blyth & Tyne was never a single route but a complex network of interconnecting lines built to get coal from the collieries of South East Northumberland to the ports on the rivers Blyth and Tyne. However, Blyth & Tyne managers soon saw the potential for carrying passengers as well, just as we hope those in authority will again today.
The Blyth & Tyne railway was both successful and extremely innovative. It used an integrated system of stationary, semaphore and lamp signalling. Smoking was banned on all its trains, 100 years ahead of its modern day counterparts.
The Blyth & Tyne was incorporated into the North Eastern Railway in 1874 and eventually of course in to British Rail. Prior to SENRUG's 7th June 2008 charter, the last passenger train to Ashington was on 2nd November 1964. The last passenger train to serve Choppington and Hepscott was 3rd April 1950. Freight trains however continue to run on the line, which is why it is fully operational and maintained.
Today, SENRUG refers to the line as The Ashington Blyth & Tyne Line, as a way of differentiating its campaign to see passenger trains re-instated to Ashington from the fond nostalgic memories of the line as it used to be.