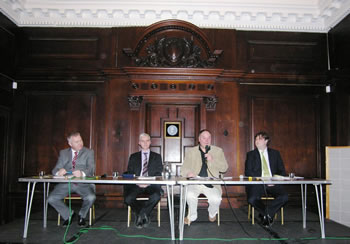 How?
SENRUG seeks to work constructively with Rail Industry Companies (the Train Operating Companies and Network Rail), Statutory Authorities (County Council, Regional groups, Regeneration Agencies and Town or Parish Councils), Elected Representatives (Councillors, MPs and MEPs), and other pro-rail groups and passenger organisations.
SENRUG seeks to put forward suggestions and recommendations that are credible, logical and commercially viable, so we are taken seriously and our voice is listened to by people of influence. We don't simply want to complain (though are not afraid to when circumstances justify), but want to say what can be done to make things better.
We can help Train Companies by letting them know what's happening on the ground in this region and also explain their side of the story to local passengers.
In very limited circumstances we can do things ourselves. We have erected coach boards (saying whereabouts on the platform a particular coach on an inter-city train will stop) and signage for the lifts at Morpeth Station for the benefit of passengers because we believe the absence of such signs was unacceptable but easy to fix. We have made a small donation for bedding plants at Morpeth Station.
In practice:
We attend meetings organised by Rail Industry Companies, Statutory Authorities and Passengerfocus.
We send emails and letters to appropriate bodies
We invite senior managers to meet us and take up issues of concern
We respond to consultations on rail services that affect this region
We keep up a close relationship with the regions MPs and other elected representatives
We work closely with the press to ensure our campaigns remained profiled in the public eye
What We've Achieved
Here are some things SENRUG has campaigned for which have now been achieved. Some are modest whereas others are significant improvements. However, we're not complacent and there is still much more we want to achieve for South East Northumberland
Ashington Blyth & Tyne Line re-opening now being progressed by Northumberland County Council. Final decision from the Department for Transport is expected in March 2020.
Feasibility Study on North of Morpeth local service underway, with Northumberland County Council indicating they will progress with the scheme once final feasibility Study report is released.
Morpeth Station now has 28 long-distance (inter-city) services each way per day, with more being added in 2021. Just 3 each way per day when SENRUG was first formed.
Evening and Sunday local trains introduced at Cramlington and Morpeth.
Northern have confirmed Ticket Office opening hours at Morpeth Station will be extended to include weekday afternoons once station building renovation work is complete.
Morpeth and Cramlington stations both now have Customer Information Screens and Morpeth station now has level access to both platforms via lifts
Car parks at Morpeth Station have been extended and are being extended further
Plusbus at Morpeth introduced and there is now a limited bus service to Morpeth Station bus turning circle.