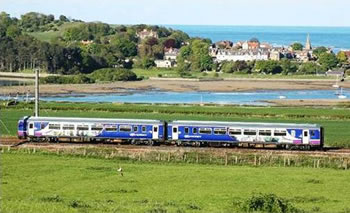 What Is Proposed?
SENRUG wants to see a regular, daytime local service north of Morpeth to Berwick via Pegswood, Widdrington, Acklington, Alnmouth, Chathill and re-opened stations at Belford and Beal for Holy Island. A station at Warkworth for Amble should also be considered.
Why?
Currently, residents of Pegswood, Widdrington, Acklington and Chathill have a choice of just one morning commuter train and one evening return train. This is wholly inadequate and does not reflect the needs of part time (eg call centre) workers or those who have variable finish times. When SENRUG consulted on a proposed timetable change to the single evening service, it found evidence that many commuters from these communities simply do not use the train as there is an inadequate choice of services.
The Blue Sky Forest is a proposed £50m development of a former opencast mining site at Widdrington to create a major sports centre with national standard facilities, a holiday park, and a renewable energy complex. The development is expected to create 700 jobs itself and significantly more leisure traffic to Widdrington. Earlier plans additionally included significant housing development. Road access to the site is poor, and whilst there is a rail station, the single morning and evening services are not adequate to support a development of this magnitude.
The new North of Morpeth local service with regular, hourly trains stopping at all existing stations and re-opened stations at Belford and Beal for Holy Island would benefit not only commuters from north Northumberland but would also support the tourism and leisure industry. This section of the line runs parallel to the Coast overlooking glorious sea views, yet no local trains run over it. It would connect various locations on the Northumberland Coast Path and Cycle Path, and serve St Cuthbert's Way (a long distance path) at both Belford and Beal. Good public transport links would make north Northumberland a more attractive holiday destination and increase inward investment.
In SENRUG's view, Cornwall enjoys a good local public transport network and has a strong tourism industry. Norfolk enjoys a reasonable public transport network and has a reasonably developed tourism industry. Whereas north Northumberland has a poor public transport network and has under-exploited tourism potential. This needs to be addressed.
Once a regular local train service is running, the line could be named "The Northumberland Coast Line" and could be promoted through leaflets advertising walks, cycle rides and tourist attractions in close proximity to stations.
How?
An initial service to Pegswood and Widdrington could be achieved simply by extending some of the trains on the MetroCentre to Morpeth route. SENRUG believes alternate trains could be extended, creating a 2-hourly service throughout the day to these stations.
This could possibly be done within existing rolling stock allocations (by removing idle time at Newcastle and Morpeth) but more likely would require an additional rolling stock unit.
The delivery of the full Northumberland Coast Local Service could be achieved by working collaboratively with Transport Scotland who are investigating a local service from Edinburgh to Berwick with re-opened stations at East Linton and Reston. Transport Scotland considered extending their proposed service south from Berwick to Newcastle as this may give a better economic return. Rather than an extension south from Berwick being on a semi-fast basis, SENRUG believes it should similarly be a local service (as north of the border) stopping at all existing stations and additionally re-opened stations at Belford and Beal. There is therefore a real possibility of achieving this new service through partnership working.
Update
In September 2016, SENRUG and RAGES (Rail Action Group East of Scotland) jointly formally launched a campaign for a Newcastle to Edinburgh local service calling at all local stations en route, with Belford and Beal re-opened in England and Reston and East Linton re-opened in Scotland. A new colour brochure describing the scheme and its benefits has been produced and sent to all stakeholders along the route. For SENRUG, this includes the MPs for Wansbeck and Berwick, the County Council, the Parish Councils and The North East Combined Authority. The campaign has been well covered in the press.
SENRUG is receiving strong expressions of support for its proposals from Parish Councils and other community groups in mid and North Northumberland.
In May 2019 SENRUG confirmed it had received funding from Northumberland County Council and Northern Railway's Seed Corn Fund for the Feasibility Study to go ahead. Both parties are contributing just under 50% of the total cost with a token contribution from SENRUG. Click here for SENRUG's Press Release.
The Feasibility Study commenced in November 2019 and reported in 2020. It found there is capacity for an hourly local service to run, and that the service could be economically viable, provided electric local trains (EMUs) are used (which may require Network Rail to increase the power supply from the National Grid north of Morpeth). SENRUG is aware the Department for Transport currently have some spare electric class 365s EMUs in store at Derby. Northumberland County Council submitted 2 applications to the DfT's "Restoring Your Railways" Fund – one for the service itself and one for a station at Belford, but neither were successful. However, as a result of strong opposition to the proposed East Coast Main Line timetable for May 2022 (published Spring 2021), a new service was announced for December 2021, to be provided by TransPennine Express, that will see 5 trains each way per day between Newcastle, Morpeth, Alnmouth, Berwick and Edinburgh, with some trains also calling at Cramlington. Welcome though this is, providing a much needed interconnectivity between Northumberland's key market towns, it is not the local service SENRUG campaigns for as it will serve the smaller stations. Therefore, the campaign for the hourly local service continues; most likely however it will now be necessary to wait for the new East Coast Main Line timetable to be announced and then re-prove there is capacity for the local service to be added on top of that.