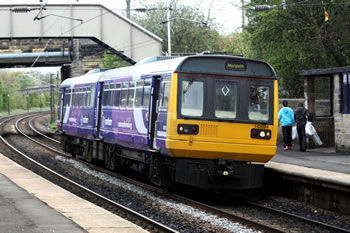 What Is Proposed?
The current service is hourly only with no evening service between 18:20 and 22:00 and no Sunday service. SENRUG wants to see service frequency increased to half-hourly, with an evening and Sunday service added.
Why?
There is a particular need to augment the current train service at Cramlington. SENRUG has been advised by the Cramlington Development Trust there are plans to build a further 3,000 - 3,500 houses in Cramlington which will enhance the population of the town to circa 45,000 making it the largest town in Northumberland. Additionally, the NHS are completing construction of a new trauma hospital on the outskirts of the town, which it is proposed be linked by a special bus service to the town centre and possibly the station. As such, SENRUG believes the current hourly service is wholly inappropriate for a town of this size.
The situation at Morpeth is slightly better because a handful of inter-city services call at the station. But Morpeth, a market town and regional shopping centre, also justifies a half-hourly service throughout the day.
Recent changes to the times of the morning commuter trains to Newcastle resulted in negative feedback from existing commuters. SENRUG believes this is further evidence that the current hourly service frequency is insufficient. SENRUG also suspects that rail commuting is suppressed because of the lack of evening return service after 18.20. Thus, commuters who may need to work late without notice, or who wish to socialise after work, have no ability to return home by train and are obliged to find an alternative means of travel for commuting.
How?
The existing TransPennine Express services from Liverpool and Manchester to Newcastle sit idle at Newcastle for 55 minutes before returning south.
Within that time, these services could be extended to Cramlington and Newcastle. The TPE service is hourly, and combined with the existing hourly Northern Rail service, it would deliver a half-hourly service to Cramlington and Morpeth.
TPE services also run in the evenings and on Sundays, so Cramlington and Morpeth would benefit from an hourly evening and Sunday service too.
Electric trains are due to be introduced on the TPE route; these would be compatible with extension to Morpeth as the Newcastle to Morpeth line is already electrified (electrification of the reversing siding at Morpeth might be required).
The new service would also offer direct journey opportunities from Cramlington and Morpeth to Durham, York, Leeds and Manchester, growing the overall rail market through the wider range of journey opportunities.
Update
First TransPennine Express will be extending their services from Newcastle to Edinburgh from December 2019. They have already announced these trains will call at Morpeth. Other stops have not as yet been announced. SENRUG is seeking to persuade TPE to stop these trains at Cramlington as well. This proposal is linked to the separate campaign to re-locate Cramlington station which Northumberland County Council is now leading on.

Additionally, Northern Railway, who took over the local franchise from April 2016, are scheduled to introduce an evening and Sunday service between Newcastle Cramlington and Morpeth from December 2017.