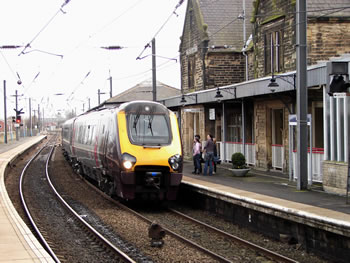 What Is Proposed?
SENRUG wants to see a long distance train call at Morpeth at least every 2 hours throughout the day, in each direction.
In December 2019, with the introduction of the hourly TPE service (Liverpool – Edinburgh) calling at Morpeth, SENRUG considered this campaign achieved. Sadly, however, the TPE services were not re-instated in May 2021 after the COVID lockdown, and worse the new ECML timetable proposals for May 2022 (thankfully deferred due to strong opposition) proposed a reduction in LNER services at Morpeth. Thus, campaigning continues, particularly the ongoing need to be vigilant with regard to whatever replaces the May 2022 timetable proposals.
However, 2021 did see the introduction of LUMO trains (an open access operator) running from Edinburgh, Morpeth, Newcastle then non-stop to London (some trains will call at Stevenage). This will ramp up to 5 trains each way per day from early 2022. Also December 2021 sees the introduction of a TPE shuttle service connecting Morpeth, Alnmouth & Berwick to Edinburgh, which whilst welcome, does not really count as an inter-city service as the trains are not through trains continuing beyond Newcastle to Leeds and Manchester
Why?
Morpeth station serves a population of 81,000 living within a 5 mile radius of the station. A population of this size clearly merits frequent long distance trains and a good selection of long distance trains will help re-invigorate the business economy throughout South East Northumberland and promote Morpeth's leisure and tourist potential. The local service between Morpeth and Newcastle is poor and changing trains at Newcastle is unappealing.
In particular, there is a strong demand between Morpeth and Edinburgh, yet passengers will not travel back to Newcastle in order to catch a train going north to Edinburgh. Train operators can however re-sell seats on less busy sections of their routes vacated by passengers alighting at Newcastle.

How?
The hourly Liverpool to Edinburgh TransPennine Express service, introduced in December 2019 but never re-instated after the temporary Covid timetable reductions, should now be re-introduced.  This could be achieved by extending the Liverpool – Newcastle TPE trains on to Morpeth and Edinburgh, providing an hourly service in each direction, in lieu of the TPE Newcastle to Edinburgh shuttle service which is less frequent and does not provide direct connections from Morpeth to Leeds and Manchester.
Additionally, proposals to cut off-peak LNER services as proposed in the first draft of the East Coast Main line timetable for May 2022 should be scrapped; the existing number of LNER and CrossCountry services should be retained.