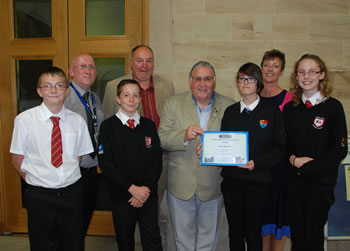 In Spring 2014, to celebrate the 50th anniversary of the Closure of the Ashington Blyth & Tyne Line to passenger services, SENRUG organised a competition amongst local schools to create a 7 to 10 minute DVD setting out their business case for re-opening the line

6 entries from 5 different schools were received. Entries were submitted to SENRUG by the last day of the summer term (July 14); and judging took place over the summer.
The judges were Ian Arkle, Editor of The News Post Leader, and Pete Myers, Stakeholder Relationship Manager at Northern Rail, supported by Dennis Fancett, Chair of SENRUG.
The cash prices of £250 to the winning school and £50 to the two runners-up was sponsored by The Arch Group – The Northumberland Development Company.
The prize also included a trip to London for students from the winning team to present their DVD to their MP at Parliament, and to visit Northern Rail's Operations Centre at York Station on the return journey. This part of the prize was sponsored by East Coast Trains, CrossCountry and Northern Rail. Wansbeck MP Ian Lavery and former Blyth Valley MP Ronnie Campbell (who both strongly support the re-opening campaign) promised their full co-operation in the event a school from their constituency was declared the winner.
The BBC and News Post Leader TV both gave permission for schools to copy up to 90 seconds of material from their archived news reports to include in their entries.
Congratulations to the winning school which is Hirst Park Middle School (Ashington). To see their winning entry on Youtube click here Runners Up (in no particular order) are Cramlington Learning Village and Collingwood School & Media Arts College (Morpeth)
Highly Commended entries (in no particular order) are from Northumberland Church of England Academy (Team NCEA), The King Edward VI School (Morpeth) and Northumberland Church of England School (Animation Club)
To see all the schools' entries on Youtube click here